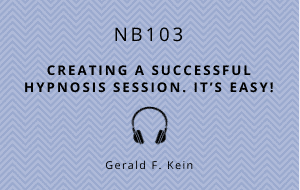 NB103 - Creating a Successful Hypnosis Session. It's Easy!
The biggest problem we have in the work is the, "I went for hypnosis but it didn't work for me virus." Jerry will show you how to eliminate this disease from your clients!
Description
Gerald Kein, Director of the Omni Hypnosis Training Center in Deland Florida, has worked in the hypnotism profession for over 40 years.
He has become one of the most well known and respected hypnotism instructors in the work.
During this audio seminar, he explains, step by step, how to dramatically increase your session successful outcome.