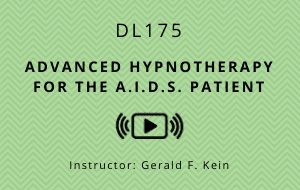 DL175 - Advanced Hypnotherapy For The A.I.D.S Patient
Use Of Hypnotism In The War Against The A.I.D.S. Virus Is Generating Some Wonderful Results!
Description
In many cases through the use of hypnotism, practitioners are discovering this terrible disease seems able to be controlled.
This program presents you with the latest known step by step hypnotic techniques in the battle to defeat this terrible virus.
If you have the love, empathy and compassion to work with the clients who need you most, this program gives you some valuable weapons to help in this continuing battle!
Learn valuable, effective techniques for a positive approach in the fight against A.I.D.S.!
This video has been digitally remastered from VHS tapes. Not HD quality. Content truly up to date.