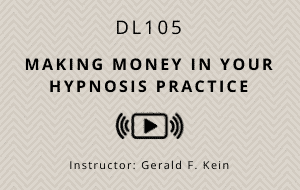 DL105 – Making In Your Hypnosis Practice
Description
This video has been digitally remastered from VHS tapes. Not HD quality. 
You can't be a good hypnotist if you are worrying about paying the rent. This program will show you how to get your business in the black quickly!
I have just viewed your video tape Making Money and I am thrilled! This is just what I have been looking for. Your video is exactly what I needed. It tells exactly what to do and how to do it. Jerry, this video is a winner and is what every hypnotherapist should view before seeing the first client. We can be the finest hypnotherapist there is, but unless we know how to market those skills, we will not be able to afford to stay in the business. Once again, thank you for a clear and to the point video on how to really make it big financially as a hypnotist.
Rick Lawrence, CHT Hendersonville, TN – 
Instruktor
Gerald F. Kein (1939-2017)
Gerald is the founder of the Omni Hypnosis Training Center®. Having trained thousands of hypnotists and hypnotherapists in over eighty countries, he is widely recognized as one of this country's leading instructors of clinical hypnotism.