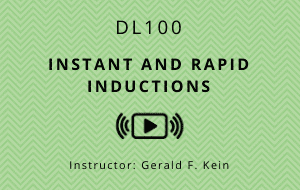 DL100 – Instant And Rapid Inductions
Description
This video has been digitally remastered from VHS tapes. Not HD quality. Content still up to date.
This is the original program that started it all. More than just a single subject. It's like a condensed course in hypnosis.
Many hypnotists devote too much session time in the induction process. In fact, many times late in the day, clients fall asleep prior to entering the hypnotic state. A good rule of thumb for the hypnotist is, "THE LATER IN THE DAY, THE SHORTER THE INDUCTION SHOULD BE."
In this humorous and highly educational video, you learn many specific instant and rapid inductions and learn "step by step" how to place over 85% of your new clients into deep somnambulistic hypnosis INSTANTLY!
Gain confidence when working with analytic clients and with clients who have failed with other hypnotists! Save valuable transformational session time in the clinical and non-clinical environment!
This workshop will excite and stimulate you to become the very best!
Includes printed Hand Drop Induction!
INCLUDED At No Extra Charge is a 30 min. audio mp3 podcast on Instant and rapid inductions by Gerald Kein!
1 Hr. 59 Min. 
I luckily bought two of your video seminars; Instant and Rapid Inductions in a Professional Practice and How to do the Dave Elman Induction. I am a member of the Union of Finnish Hypnotists and the National Guild of Hypnotists. I have been practicing hypnotism for two years but nothing that I have learned has given me so much in so short of time than your videos. I have taken giant steps in my appearance as a hypnotist.
Kimmmo Korpijaakko – Espoo, Finland
I've been studying hypnosis, with occasional practice for close friends and family members for three decades. Of all the books I've read and courses I've taken, I tell everyone not to bother with anything else but Gerald's teachings. Everything you need to know , the best of the best and no time wasting. Just good stuff!
Jon Deva
Thank you for keeping these videos available as there is no substitute for this material! Outstanding and very educational. I'm amazed and can't wait to try some of the techniques! These are the best I've seen!
Julie Miller

Instruktor
Gerald F. Kein (1939-2017)
Gerald is the founder of the Omni Hypnosis Training Center®. Having trained thousands of hypnotists and hypnotherapists in over eighty countries, he is widely recognized as one of this country's leading instructors of clinical hypnotism.